BMW Bicycles

See More This Summer In a BMW Cruise 2 Bicycle From Bavaria BMW
Your BMW may be the most comfortable and luxurious way to get around town, but it can only take you as far as the road will go. There is plenty more around Edmonton that is left to discover: the trails of our gorgeous river valley and urban parklands, the winding streets of our character neighbourhoods, and the currents of air passing through your hair during a hill descent in the tranquil, early summer mornings.
At Bavaria BMW, we offer you the perfect sports product to explore the city and fill in the blank spots on the map.
BMW Cruise Bicycle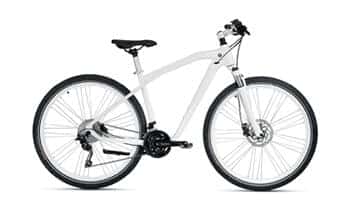 The Cruise is exactly what you'd hope it would be: lightweight and fast, making it perfect for cruising and a casual bikeride throughout the city.
Inspired by BMW motorcycle design, the Cruise has a striking bull-neck frame to give you presence on the road. The frame is lightweight hydro-formed aluminum which offers superior agility. Speaking of agility, the Cruise really is flexible thanks to its Continental Cruise CONTACT tires with a Kevlar® insert under the tread. You also get:
Hydraulic Shimano disc brakes for quick, precise braking
A Shimano Deore 30-gear groupset for seamless gear changing
A Selle Royal Freccia saddle with ergonomic design for ideal riding comfort
Velo handles with ergonomic grip
The BMW Cruise bicycle is available at $1,200.00 in two colours: Mineral White and silver.
Medium size: 80-91-2-412-309
Large size: 80-91-2-412-310
BMW Cruise 2 Bicycle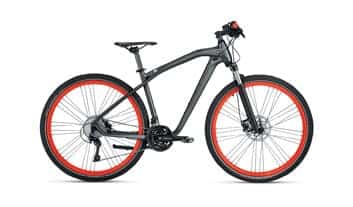 Stylish and with rich materials, this city bicycle was engineered to ensure optimal weight distribution and torsional stiffness, allowing you both the possibility to leisurely pedal down the avenues or to test this machine to its limits.
The Cruise 2 bicycle is a BMW in a different motif. Like its four-wheeled relatives, it embodies mechanical mastery with minimalist aesthetics. The product speaks for itself, but its small details tell the most important parts of the story. In places where other bikes cut corners, BMW places greater attention to detail, whether that will be noticed by the end user or not:
Smooth-welded seams and cable ducts that rest within the frame allow for a cleaner and unencumbered look
Shimano Alivio 27-gear derailleur provides for smooth shifting, helping riders to conserve energy at key junctions
Optimized title degree of the fork and adjustable stem allow for ideal posture
Lightweight materials allow for this bicycle to be lifted with two fingers
The BMW Cruise 2 bicycle is available in two colours: white and grape.
Part # (White): 80-91-2-334-021
Part # (Grape): 80-91-2-334-029
BMW Cruise M-Bike and M-Bike Special Edition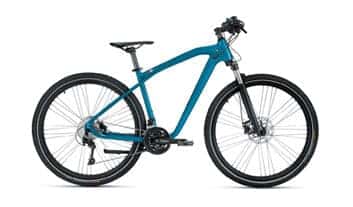 A bike that represents and wears the iconic M badge well. The SR Suntour fork has a remote lockout system to offer either relaxed or aggressive ride settings. The 28″ wheels have Rodi Airline Plus 4 lacing for uncompromising comfort on the road–or offroad, should you be the adventurous type.
Hydraulic Shimano disc brakes for quick, precise braking
A Shimano Deore 30-gear groupset with rear derailleur quicker, smoother shifting
A Selle Royal Seta S1 saddle designed for superior support on any terrain
Hermans handles with ergonomic design and small grip surfaces for optimum comfort
Carbon seat post for high resistance and minimal vibration
The BMW Cruise M-Bike is available at $1,550.00 in two colours: Matte Anthracite and Red. The BMW Cruise M-Bike Special Edition is available at $1,700.00 in two colours: Long Beach Blue and Black!
Small size: 80-91-2-412-311
Medium size: 80-91-2-412-312
Large size: 80-91-2-412-313
Special Edition Small size: 80-91-2-412-314
Special Edition Medium size: 80-91-2-412-315
Special Edition Large size: 80-91-2-412-316
---